ALC skiers raising funds to help support their dreams with new tax receipting program for sponsors
Ski racers training in Collingwood aim for NCAA, Olympics
Though they follow winter around the world, these local ski racers, part of the Ontario Ski Team, have made Collingwood their home gym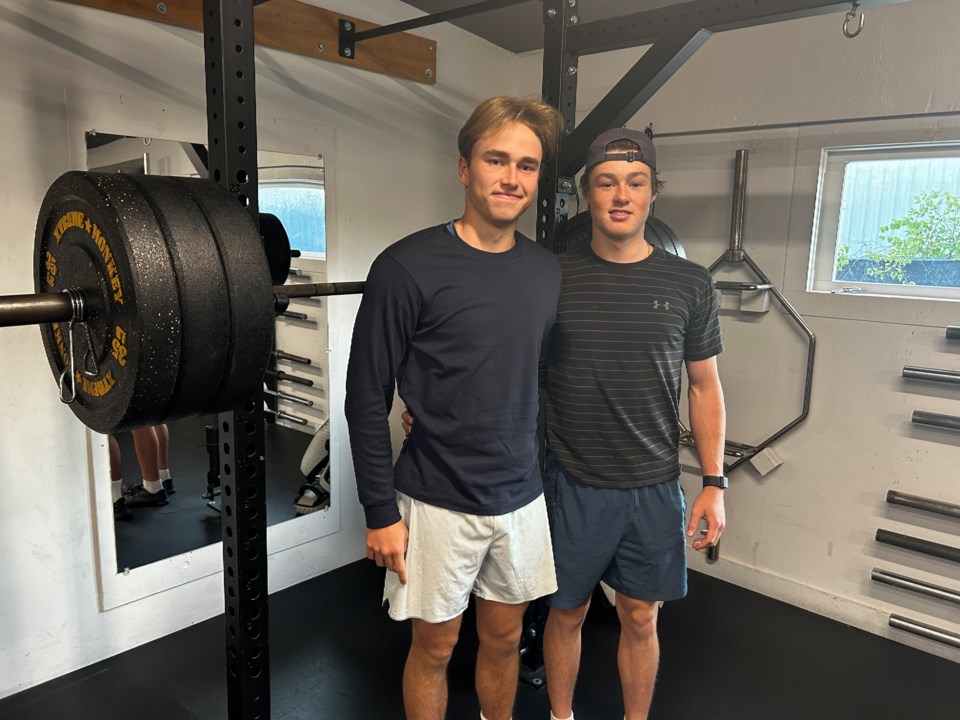 Listen to this article
00:04:32
Two of the racers on this year's Ontario Ski Team learned how to "pizza slice" on local hills and return to them whenever they can as their home training ground, both hoping to one day join a long line of Ontario skiers who represented Canada at the Olympics and in NCAA competition.
Colton Bartholomew, 18, of Springwater Township, and Jayden Buckrell, 19, of Collingwood grew up following their fathers' tracks into ski racing, having first zoomed down the hills at three years old.
Now that they're both on the Ontario Ski Team, they're flying down the mountains of Chile, Colorado, and more as they train and compete on the North American Cup and International Ski and Snowboard Federation (FIS) circuits.
"We're not really home too often, but when we are home we train at any of the clubs that will have us," said Buckrell. "We're mostly all over Canada, but also in the US and Europe a little bit as well, and we just finished a camp down in South America in Chile."
Both Buckrell and Bartholomew have graduated high school, though it took some balancing. Bartholomew went to a US school called Burke Mountain Academy in Vermont, and Buckrell went to Collingwood Collegiate Institute, where he had to work with his teachers to make up for 180 absences in his Grade 12 year due to ski racing and training.
The Ontario Ski Team, part of Alpine Ontario Alpin since 1977, is a high-performance development program designed to bring young skiers to the international competition stage, with the goal of seeing them graduate to the Canada Ski Team, or to NCAA racing careers.
The Ontario Ski Team is centralized to Collingwood (with training taking place all over the world) and its athletes train at Active Life Conditioning on Stewart Road.
Buckrell and Bartholomew join their teammates and those on the Ontario Ski Team development roster at Active Life at 7 a.m. each morning for training with strength and functional fitness programs led by Rob Buxton.
The team will be leaving again for South America in a couple of weeks, then to western Canada for three weeks, and then the North American Circuit will start in Colorado in December.
There are four Alpine racing disciplines including downhill, Super G, slalom, and giant slalom. Bartholomew prefers giant slalom and Super G, and Buckrell prefers the technicality of slalom and giant slalom. Alpine racers in Bartholomew and Buckrell's races can reach speeds of about 130 to 140 km/h, particularly in the downhill race.
Both Buckrell and Bartholomew aim to do post-secondary education in the field of business, and ultimately make the national team. Buckrell is currently working toward a division one NCAA scholarship for alpine skiing.
They have lots of opportunities ahead of them for racing and education, something they're grateful for, and something they wish more young people had access to.
"Ontario has an interesting ski racing community, the private clubs and all that, it's not actually super accessible to people," said Bartholomew. "It was still great growing up skiing here … there's a lot of good skiers that come out of Ontario."
Buckrell agreed that it was nice to grow up where he could ski close to home and having his dad as the head coach at Osler Bluff, but he also acknowledged the barriers most kids face preventing them from racing.
"I think it should be a lower barrier," said Bartholomew. "If you look at any European country, ski racing is just so accessible to the younger kids. When you go to Austria on the glaciers, they're just full of kids ski racing."
He said it's a lot tougher to get into racing in Canada.
"But after all, it's Canada, it's a cold country and we should be funding ski racing and making it more accessible to kids," said Bartholomew.
Buckrell also agreed it shouldn't be so difficult to start ski racing.
"It's definitely something that everyone should experience," he said.
Buckrell is doing some of his own fundraising for his ski racing equipment, travel and competition expenses, and has partnered with the organization Snow Athletes Canada to offer tax receipts for sponsorships. You can find out more on his fundraising page here.